in the lap of Nar-Narayan Parvat, with the towering Neelkanth peak (6,597mts.) in the background, Badrinath is one of the most revered Hindu shrines of India.

It has been said that "there were many sacred spots of pilgrimage in the heaven, earth and the other world but neither is there any equal to Badrinath nor shall there be one."

It is believed that to revive the lost prestige of Hinduism and to unite the country in one bond, Adi Guru Sri Shankaracharya built four pilgrimage centres in four corners of India.

Among them were Badrikashram in the north, Rameshwaram in the south, Dwarkapuri in the west and Jagannath Puri in the east. Badrinath situated at an elevation of 3,133 mts. is considered to be amongst the most pious.

Best Season: May to October every year the temple usually remains open from first week of May to 2nd week of November.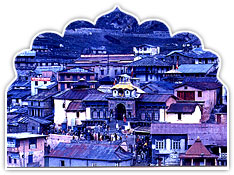 STD service, Post and Telegraph Office, Govt. Dispensary & Police checkpost are available in Badrinath. Genral Information:
Area: 3 sq . km .
Rainafall: 1460 mm
Clothing: Till May -heavy woollens, June -Sept -light woolens & Oct. -Nov . -heavy woollens
Languages: Hindi, English and Garhwali.
How to get there:
Airport: Jolly Grant, (317kms.)
Railhead: Rishikesh, (300 kms.) Kotdwar ,(327 kms.)
Road: Well connected to Rishikesh , Haridwar , Dehradun , Kotdwar And other hill stations of Garhwal and Kumaon region .

Places of Interest:

Sri Badrinathji Temple: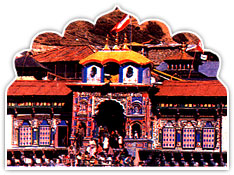 On the right bank of Alaknanda lies the sacred spot perched at an altitude of 3,133 meters above the sea level. Encircled by a beautiful valley, the 15 mts. high temple is dedicated to Lord Vishnu. It is built in the form of a cone with a small cup of a ilt bull and spire.

Built by adi guru Shankaracharya the philosopher-saint of the 8th century, the temple has been renovated several times due to damage by avalanches. Its colourful 'singh dwara' or the main entrance gate give it a new, modern look.

The temple is divided into three parts the 'garbha griha' or sanctum sanctorum, the 'darshan mandap' where the rituals are conducted and the 'sabha mandap' Where devotees assemble. The complex has 15 idols. Specially attractive is the one metre high image of Sri Badrinathji, finely sculpted in black stone. It represents lord Vishnu seated in a meditative pose.

Tapt Kund: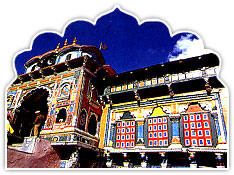 Devotees take a holy dip in the natural thermal springs on the banks of the river Alaknanda , before entering the Sri Badrinathji Temple. The water of the Kund is believed to have medicinal properties.

Neelkanth:
A pyramidal-shaped snowy peak towering above Sri Badrinathji, Popularly known as the `Garhwal Queen`.

Charanpaduka:
The footprints of Lord Vishnu can be seen on a boulder in this beautiful meadow.

Brahma Kapil:
A flat platform on the bank of river Alaknanda where Hindus perform

Sheshnetra:
A boulder having an impression of the legendary serpent- known as Sheshnag's eye.