Day 01: DELHI - RISHIKESH (244 Km / 6 to 7 hrs)
Upon arrival in Delhi meeting and assistance drive to Rishikesh by road, on arrival at Rishikesh check-in to hotel, evening free for relax & briefing. Dinner & overnight stay at hotel.

Lunch at - On direct payment basis

RISHIKESH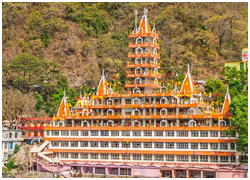 24 Kms. from Haridwar, located in the laps of lower Himalayas, and is surrounded by scenic beauty of the hills on three sides with Holy Ganga flowing through it. The whole place is considered to be sacred as it is believed that meditation at this place leads to attainment of salvation. There are many temples-some ancient, some new along the river Ganges. Rishikesh is important not only as pilgrimage center closely associated with the Ramayana, but also as home for many important centers of Hindu religious thought and spirituality, and as a very great Yoga Centre. There are many ashrams and Yoga institutes here. Rishikesh is also the gateway and the start-off point for journeys to important religious places like Badrinath, Kedarnath, Gangotri and Yamunotri.

Day 02: RISHIKESH-GUPTKASHI/SITAPUR (190 Km / 8 to 9 hrs)
After early morning breakfast check out from the hotel and drive for Guptkashi/Rampur/Sitapur. On arrival check in at hotel. Rest of the day free to explore the Guptkashi town. Dinner and Overnight stay in Guptkashi/Rampur/Sitapur hotel/Camps.

Lunch at - On direct payment basis

Guptkashi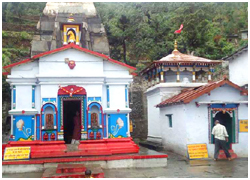 Guptakashi, Gupta Kashi or Guptkashi is a fairly large town located at an elevation of 1,319 metres (4,327 ft) in the Kedarkhanda ('khanda' means "sector"), in Garhwal Himalayas of Rudraparyag district in Uttrakhand, India. It is known for its ancient Vishwanath Temple dedicated to the god Shiva, which is similar to the one in Varanasi (Kashi). The other wellknown temple here is dedicated to Ardhanareshvara, a half man half woman form of Shiva and Parvati. The name Guptakashi has legendary significance linked to the Pandavas, the heroes of the Hindu epic Mahabharata .Its religious importance is considered next to that of Varanasi, believed to be the most pious of all Hindu pilgrimage places.

The temple town is located on the way to the Kedarnath, one of the Chota Char Dhams and Panch Kedar. It has the scenic backdrop of the snow-covered peaks of Chaukhamba and enjoys a salubrious weather throughout the year.

Day 03: GUPTKASHI/SITAPUR - SONPRAYAG - KEDARNATH (30 Km OR 18 Kms drives + 20 Km trek / 07-08 Hrs)
Early morning after breakfast check out from the hotel and drive to Sonprayag. From where, you will start your 20 km trek to Kedarnath. You can hire a Doli or a horse, for your trek (Cost Not Included). Mandakini, one of the main tributaries of the Ganges originates at Kedarnath and flows through Gaurikund. Trudging with you are pilgrims chanting "Jai Bholenath." Sometimes the mist would envelop the mountains and slowly lift away, revealing a shiny blinding-white peak that threatens to rupture the skies. On arrival check in at Govt. Camps/Lodges. Dinner and Overnight at Govt. Camps/Lodges.

Lunch at - on direct payment basis

Kedarnath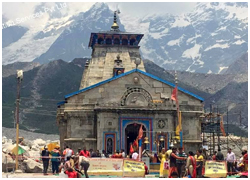 Kedarnath Mandir is a Hindu temple dedicated to Lord Shiva. It is on the Garhwal Himalayan range near the Mandakini river in Kedarnath, Uttarakhand in India.

Day 04: KEDARNATH - SONPARYAG - GUPTKASHI / SITAPUR (20 Km trek down/18 Kms OR 30 Kms Drives / 05-10 Kms hotel drive)
Early morning you get up before dawn and after taking bath you are at the temple by 4:45 am for the 'Abhishek' to Kedarnath Shiva. Everyone can go inside Garbha Griha and touch the idol. You can also prostrate with your head touching the deity etc. After darshan and puja you come out of the temple and return to the Camps / Lodges. Later you'll start the return trek of 20 km from Kedarnath to Sonprayag. The vehicles wait for you in Sonprayag Car Parking and you'll drive to your hotel (Sitapur)/Guptkashi. Dinner and Overnight at Rampur /Sitapur/Guptkashi.

Lunch at - on direct payment basis

Day 05: SITAPUR/GUPTKASHI - JOSHIMATH - BADRINATH (240 Km OR 190 Kms / 8to 9 hrs) This morning, you check out of the hotel and drive to Badrinath via Joshimath. After driving through some wonderful Ghat road you arrive at Badrinath. On arrival check into the hotel. After some rest and refreshments you are all set to go to Badrinath Temple for darshan in the evening. But first you have to go to Tapt Kund (Hot Spring), take bath and then go to the temple. Dedicated to Lord Vishnu, the temple of Shri Badrinath Ji is 15 meters in height, built in the form of a cone with a small cupola of a gilt bull and spire. Later back to hotel. Dinner and Overnight stay at hotel.

Lunch at - on direct payment basis

Badrinath
Badrinath or Badrinarayan Temple is a Hindu temple dedicated to Vishnu which is situated in the town of Badrinath in Uttarakhand, India. The temple and town form one of the four Char Dham and Chota Char Dham pilgrimage sites.

Day 06: BADRINATH - JOSHIMATH-RUDRAPARYAG-SRINAGAR (185 Km / 7 to 8 hrs)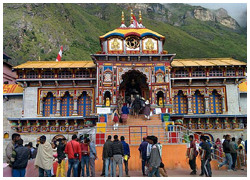 This morning, go for Badrinath darshan. After darshan return back to hotel, breakfast at hotel and proceed for Badrinath local sightseeing visit Mana Village, Vyas Gufa, Ganesh Gufa, and Mata Murti temple. Afternoon driver back to Srinagar via Karanprayag & Rudraprayag. Rudraprayag is a small pilgrim town on the holy confluence of river Alaknanda and Mandakini. On arrival check in at hotel. Dinner and Overnight stay at hotel.

Lunch at - on direct payment basis

Mana Village: Mana is a village in the district of Chamoli in the Indian state of Uttarakhand, located at an altitude of 3,200 meters. Mana is the last Indian village situated at Indo-China Border.

Vyas Gufa: At a distance of 5.5 Km from Badrinath Bus Stand, Vyas Gufa is an ancient cave located on the banks of Saraswati River at Man Village in the Chamoli District of Uttarakhand. Vyas Gufa is believed to be the place where sage Vyas composed the Mahabharata epic with the help of Lord Ganesha.A distinct feature of the temple is the roof which resembles the pages from the collection of his holy scripts.

Day 07: SRINAGAR-DEVPARAYAG - HARIDWAR (145 Km / 5 to 6 hrs)
After breakfast drive to Haridwar en-route visit Devprayag, (The Confluence of River Alaknanada & Bhagirathi) to become Ganga. Reach Haridwar in the afternoon, check in to hotel, after Breakfast visit Mansa Devi, Chandi Devi Temples & Evening attend Famous Ganga Arti at Har ki Pauri. Overnight stay at Hotel.
Lunch at - on direct payment basis

HARIDWAR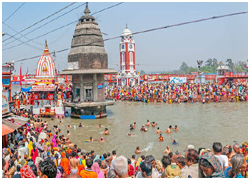 Haridwar, lying at the feet of Shiva's hills, i.e. Shivaliks, in the Haridwar district of Uttarakhand. Suryavanshi prince Bhagirathi performed penance here to salvage the souls of his ancestors who had perished due to the curse of sage Kapil. The penance was answered and the river Ganga trickled forth forms Lord Shiva's locks and its bountiful water revived the sixty thousand sons of king Sagar. In the traditional of Bhagirathi, devout Hindus stand in the sacred waters here, praying for salvation of their departed elder. It is doorway to the sources of the Ganga and the Yamuna, 3000 to 4500 meters up into the snowy rang

Day 08: HARIDWAR - DELHI (220 Km / 6 to 7 hrs)
Morning breakfast at hotel, and you are on your last lap of this Chardham Yatra journey. Drive back to Delhi. On reaching Delhi transfer to Railway Station / Airport.
Hotels Envisaged for the Tour Package : -
DAY
Destination
Standard Hotels
Deluxe Hotels
Luxury Hotels
1
Haridwar/ RKS
City Park/ Grand/ Similar
Tri Hari / Neeraj Bhawan
Ganga Kinare / Great Ganga
2
G.kashi/ Sitapur
JPG Palace/ Similar
Lals Resort / Hotel AAA
Nirvana/ Shivalik Valley Resort
3
Kedarnath
GMVN Camps
GMVN Camp
GMVN Camp
4
G.kashi/ Sitapur
JPG Palace/ Similar
Lals Resort / Hotel AAA
Nirvana/ Shivalik Valley Resort
5
Badrinath
Deepak/ Patliputra/Jagdamba
Dwarikesh/ Badri Ville
Sarovar Portico / Badri Ville
6
K.Nagar/ R.Prayag
Chahat N-AC / Similar
Hotel Chahat AC Dlx
Monal Resort /Similar
7
Haridwar/ RKS
City Park/ Grand/ Similar
Regenta Orko's/ SRS Lakshya
Hotel Godwin
YOUR TRIP INCLUSIONSS
YOUR TRIP EXCLUSIONS

All accommodation days on double / triple sharing basis as per your choice
All buffet breakfast & dinner at the hotels mentioned. (Except Kedarnath )
All Transfers, excursions & sightseeing as per the itinerary
Below 5 Yrs Child sharing same bed with parents will be Complimentary.
Parking and all transport related expense including Driver Services
All toll taxes, parking fees, Fuel and driver's allowances.
All Transport & Hotels Related Taxes.
A 24 - hour helpline
Assistance on Arrival.
No Hidden Cost

Personal expenses such as laundry, telephone calls, tips & gratuity, mineral water, soft & hard drinks, porterage.
Anything not mentioned in the inclusions
Additional sightseeing or extra usage of vehicle, other than mentioned in the itinerary
Entrance Fees & Guide charges
Any cost arising due to natural calamities like, landslides, road blockage, political disturbances (strikes), etc (to be borne by the client, who is directly payable on the spot)
Any increase in Airlines taxes or fuel price at the time of departure, leading to increase in cost on surface transportation & land arrangements, which may come into effect prior to departure
Still camera/video camera charger.
GST & all Government Taxes
NOTE-
Rates are not valid for Festive peak season.
Rates are based on Hotels Subject to Availability at the time of making Reservation. In case of unavailability in mentioned hotels, alternate accommodation will be arranged in a similar category hotel.
Rates are subject to change if there is any Fair & Festival, Major conference, events in travel destination.
Early check in / late checks out is subject to availability of rooms. In Chardham sector maximum hotels are preferring 12:00 Noon Check in & Check out timing.
Cancellation charges would be as per the company policy.
Vehicle confirmed will be as per Itinerary and not at disposal. AC will work only in the plains and will be switched off during hill drives. Specially for the Chardham sector Ac can work only in Haridwar & Dehradun's plain / surface area. It is highly depending on the package you have opted.
All sightseeing mentioned are subject to weather conditions, political conditions & traffic conditions in the destination.
Any cancellation or delay in hotel check in due to third party services (like helicopter / pony / palaki), the retention will be charged. The next allocation for the hotels on same destination is subject to the availabilities
Any sightseeing missed due to natural calamities / weather conditions / for any unforeseen reasons is non-refundable or non-adjustable.
ITINERARY MAY CHANGE AT ANY TIME - We reserve the right to alter, amend, change or modify the tour package and itineraries before or during the tour. We will make reasonable efforts to notify you promptly of such changes / events sufficiently in advance during booking or prior to departure of the tour.
All entrances fees will be on direct payment basis as per Itinerary
It is not advisable to travel in night, if necessary supplement charge applicable
PAYMENT POLICY
Deposit of 25% of the package cost at the time of booking.
Need 50% payment of the package cost, 30 days prior to departure date
Need 100% payment of the package cost, 15 days prior to departure date.
CANCELLATION POLICY
10% of full tour cost - 45 days prior to arrival.
25% of full tour cost - 30 days prior to arrival
50% of full tour cost - between 15 & 29 days prior to tour.
75% of full tour cost - between 14 & 7 days prior to tour.
100% - within 7 days prior to tour.
Click Here to Book This Tour